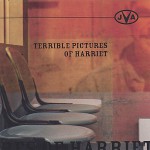 Terrible Pictures of Harriett
Thon Music
It's been nearly two years since we last heard from Jim Walker and JVA. See the July 2003 issue of Two Louies for an in-depth biography of Walker's career, but suffice it to say, for our purposes here, that Walker made his name in Portland (and elsewhere) in the '90s under the name Jeroan Van Aichen- hence the three letters in the more streamlined, current band moniker. Under one name or another, Walker has released six previous recordings. Through it all, he displays the sort of savvy songwriting facility about which most dabblers in the craft can only dream.
Here, perhaps more frequently and with more precision than ever before, he marries word with melody with uncanny originality, while charting deathly familiar singer/songwriter ground. Walker even has the audacity to proclaim in the liner notes that "There are no electric guitars on this CD," though, truth be told, lead guitarist Tim Ellis fudges in places, utilizing electronic effects on his guitar. And it's truly doubtful that effects alone can account for some of the guitar pyrotechnics on the "secret track," at the end of the proceedings (nor would the lack of an electric guitar even be appropriate for it).
Still it's a lush, acoustic album, supplemented by Walker's subtle keyboard accompaniment and augmented by his and Ellis' deft acoustic guitar phrasings- which provide much of the rhythmic drive here, along with Walker's well-chosen beat samples and occasional percussion enhancement. In addition, Myrrh Larsen, Bob McDonald,  Little Sue Weaver, Lara Michell, Nancy Hess, Tracey Harris and Stephanie Schneiderman contribute background vocals to Jim's lead vocals, creating luxuriant harmonies on nearly every track.
"Jobs" is the first song on the album, a narrative reminiscent of John Hiatt's "Cop Party," Steely Dan's "With A Gun," and, most especially, Paul Simon's "Lincoln Duncan." With a raspy voice, calling to mind Simon and Don Henley, Walker weaves a trail of intrigue and probable violence. "He's got a look of power. Of dead and heavy wisdom/Any human caring is just another symptom/He's heating up the pliers on the stove/And in a flash of his gold teeth you'll see- that there's no job too dirty." Behind an insistent snare beat and jangly mandolin phrasings, "People Are Guns" is an analogy wrapped in an enigma, as Schneiderman's vocal harmony fits like a second skin: "Some hearts are like knives. Some people are guns."
Sounding like an arrangement culled from the New Wave '80s (replete with Clark Bondy's hard farting sax interludes), "Poor Baby" could pass for something Johnny and the Distractions might have done, along the lines of "Shoulder Of The Road." Albert Reda's lovely, melodic bassline is the impetus on "Out In The Light.," a touching ballad of depth and beauty. The dark, bluesy "Shortie 187" may be about a tagger looking for new territory to "decorate," but speaks to the desolation and angst, from which all humans suffer, from time to time.
"One Of My Dreams" also references the early '80s, with Walker's Farfisa-like keyboard chortling ala Steve Nieve: during Elvis Costello's This Year's Model period.  In fact Walker pays half-homage to the influence with the line "Burned the hearts and your lipstick kiss," echoing similar sentiments in "I Don't Want To Go To Chelsea." A very cool number. Well wrought. Changing gears, the upstroke reggae of "Dissolve," could pass for Sting, circa Zenyatta Mondatta-era Police. Smooth, seamless background vocals by Tracey Harris and Myrrh Larsen and simply stellar solo pick-work from guitar master Tim Ellis, help to render indelible this memorable cut. Zesty.
A lilting melody propels "Better Days," with Nancy Hess and Lara Michell providing solid backing vocals, over Walker's lead vocal, which is out in Don Henley territory. Meanwhile "What Are You Afraid Of," calls to mind Canadian rocker Bryan Adams during his "Cuts Like A Knife" heyday, in the early '80s. The swingin' "Here We Go- We're Gone" could be the work of Glenn Tilbrook and Squeeze, with Walker's wiry vocals snaking through the arrangement, like a white-hot filament. Yeow!
Exposing Jim's softer side, the elegantly tender waltz "Driving A Nail" brings an element of Neil Finn and Crowded House to the fore. Walker's cascading piano arpeggios collide with Ellis' delicate guitar filigree to render a sound like rain falling through the moody gray atmosphere of the song, where "You've got the right look. You choose the right words/You've got the right hook. Gliding like a bluebird." Marshall Crenshaw smiles over "Return," a piece which exhibits many of  the same sort of  catchy hooks you would find in a well-constructed Crenshaw song. Stephanie Schneiderman's vibrant backing vocal rings like a sentinel bell through the choruses. Very nice.
Finally, the secret track, "Dog Boy," is an admitted tribute to the twisted memory of Frank Zappa, and is successful on several levels both because of and in spite of that. The Presidents Of The USA's "Kitty" reverberates through the song as well- although this is perhaps the most clearly delineated musical representation of the life and being of a dog, as exists anywhere in the world. Think of Joe's Garage as performed by and about the Simpson's dog, Santa's Little Helper.
Engineer CB Rock, which is the name of Craig Brock, deserves special commendation for this mix , in particular, as well as the rest of the album. Brock, who left Portland several years ago, first migrating to Mexico, before settling in Austin, returned to Portland for twelve days to mix down this album. His expertise  lends this project an alluring sheen.
With contributions from some of  Portland's best musicians, Jim Walker has produced a fine album, with a wealth of good songs and strong performances. His knack for fashioning distinctive pieces from the same whole cloth as countless other singer/songwriters in the world, sets him apart. Still, his unerring ability to turn an unique phrase or melody places his abilities in the exceptional category. Here, with the aid of  the aforementioned local stars, Jim Walker accounts for himself quite admirably.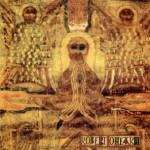 Robert O'Hearn
Sonicarious Records
Keyboardist Robert O'Hearn has been a fixture in the local and national music scene for over twenty years, first breaking into the limelight right out of school, playing keys, first with Indian violinist L. Shankar (who originally found fame in Shakti with John McLaughlin) in the late '70s, then with Jack Charles' Mien Street in the mid-'80s. Since that time, Rob has played with the likes of , Pete Droge, Jeff Trott and Jerry Joseph, while touring and recording with Dolly Parton. He has guested on innumerable local recordings, garnering a reputation as a fine instrumentalist. He comes by that talent naturally, as Robert is the younger brother of bassist/keyboardist Patrick O'Hearn who was one of the originators (for better or worse) of the whole New Age musical genre.
Patrick O'Hearn cut his musical teeth playing bass with Frank Zappa starting in the mid '70s, along with drummer Terry Bozzio, before joining Bozzio's band, Missing Persons (Robert also briefly played with Missing Persons in the early '80s). In 1985, while still in Missing Persons, Patrick released his first solo album, Ancient Dreams for the Private Player label and followed that, in 1987, with the Grammy-nominated instrumental album Between Two Worlds. Since that time he has released another thirteen albums, maintaining his status as one of the preeminent New Age artists in the world.
Robert O'Hearn's journey toward a solo career has been a bit slower to develop. In fact, it was only after over ten years of prodding by friends and associates, that he finally committed to recording this project. It must be said, up front, that it was worth the wait. Gathering many of Portland's top players, including bassists Phil Baker and Jeff Leonard, guitarists  Dan Balmer, Tim Ellis (there's that name again) and Bryan Johanson, drummer Reinhardt Melz and violinists Lex Browning and Eddie Parente (who also doubles, quite effectively, on the Irish whistle), along with a couple of vocalists and an appearance or two by the Oregon Symphony First Chair String Quartet, Rob has constructed a wonderful, mostly instrumental (there is one song with vocals among the nine presented here) album, less New Age than the work of his brother, but full of pretty melodies and superior musicianship.
The styles vary from song to song. Melz adds hard hitting rock drums to numbers such as "Aeroglide" and "On The Dragon's Tail." Others numbers, such as "Lost Son's Of Erin" are most definitely cast in a traditional Celtic mode. "A Night In Ghost Forest" is a film soundtrack theme waiting for a film. Other tracks hover in an ambient New Age-y cloud, whiles still others tread smooth jazz turf. All are expertly rendered, perfectly suited to whatever genre in which each is particularly set.
Melz' punchy drums impart the accents in "Aeroglide," while O'Hearn supplies an ebullient sitar setting, with organ and piano flourishes, before he duets with a mercurial violin- his luscious glissades dressing up the central melodic figure. Energetic and accessible. Not unlike a hipped-up, modernized version of the violin solo from It's A Beautiful Day's "White Bird." Well, that's something of a reference point anyway. With lovely acoustic guitar flourishes, "Weathervane" is a piano driven number, evocative of Bruce Hornsby, perhaps, with numerous instances of intricate ornamentation and sweeping synth arpeggios. Windswept and haunting, supported by angelic, wordless choral vocals.
Katherine McCarthy's winsome vocal on "Lost Sons Of Erin" recalls Michael Oldfield's sister, Sally, and her wonderful Celtic album of the late '70s, Water Bearer, as well as Enya, Lorena McKennitt- and the late Johnny Cunningham's work with vocalist Susan McKeon, on his interpretation of Peter Pan. O'Hearn's harp-like flutterings combine with accordion-ish tones, violin and what sounds like mandolin and Irish whistle accoutrements, all over bodhran-esque drums. Very nice. A yearning violin motif plays against a faintly Celtic setting and Robert's ornate piano accompaniment on "Gabriel's Waltz," with a ringing glockenspiel brightening the turns.
"The Essence Of Better Days," begins with a feel similar to that of Marc Cohn's "Walking In Memphis," before launching into a more full-bodied performance, with Robert's insistent piano roiling into a graceful Gospel-tinged duet with Dan Balmer on electric guitar. As mentioned previously, with its lush, orchestral arrangement, "A Night In Ghost Forest" bears distinctive cinematic qualities, with angelic choral vocals, fluttering harp arpeggios, and dramatically awe inspiring strings provided by the Oregon Symphony First Chair Quartet. Superb.
With soaring violin passages evoking Billy Oskay and Nightnoise, "On The Dragon's Tail" rocks a bit harder than the Windham Hillers ever did (thanks to Melz' dynamic drumming) and also brings to mind the deft interplay between pianist Chuck Leavell and violinist Richard Greene in Sea Level. Bryan Johanson contributes dexterous classical guitar to the 6/8 waltz of "Flowers In The Rain," a delicate little tune with romantic string quartet backing. The moody "Memories of 33rd St." concludes the album on a reflective note, with supple basslines moaning beneath O'Hearn's contemplative piano etude. A fitting finale for this short, but suite affair.
It would be easy to understand, were Robert O'Hearn to feel somewhat overshadowed by his brother's rampant success. Though his career has been far from a failure, Robert has mostly worked as a sideman, behind the scenes, out of the spotlight- typically not as the featured performer. Here, at last, he steps out from his brother's shadow to reveal a dazzlingly vital talent of his own, certainly worthy of attention from critics and the public alike. His rapturous music defies easy categorization, but satisfies on many musical levels without descending into typical New Age ambient mush, or smooth Jazz blandness. Melody is never far away in his compositions, neither are inventiveness nor sophistication. For anyone seeking sterling instrumental compositions, performed with vigor and elan, this is one of the finest recordings of those genre to come out of this city in quite some time.
Barry Crawford, known in some circles as Bazza, is one of this city's best kept secrets.  His abilities as a crafter of somewhat eccentric songs are renowned in many circles (though hardly enough). His mysterious, hand-distributed homemade recordings have been the stuff of local legend for over twenty years and a joy for anyone lucky enough to hear them. Not unlike Daniel Johnston or Vic Chesnutt, Bazza's music is typically a slightly off-kilter affair, with enough unconventional quirks to sequester it in a genre eddy far from the mainstream. This, of course, should not be viewed as a bad thing.
Here, he is joined by an extensive troupe of well and not so well-known local performers, notably including Billy Kennedy, Gina Noell and Paul Brainard, among many others; through thirteen songs, either written or co-written by Bazza, to create one of his most accessible recordings yet to be rendered. He has chosen the idioms of blues, country and western to express himself- sounding, at times, like a cross between Johnny Cash, regional legend Calvin Johnson of Beat Happening (and Dub Narcotic)  and Leon Redbone; like Bob Dylan, John Prine or Neil Young at others.
As always, Bazza's songwriting is of a very high order. Sounding eerily authentic in whatever genre he chooses to explore, this recording is a fine example of  him at his very best. He even tosses in a bit of the old Bazza weirdness in a few places, just to prove he hasn't completely gone over to the other side. But this is a very solid, consistent album, with a relentless vision of  the real world- as if starkly limned beneath a naked light bulb in a late night shotgun shack. The loose, but eminently authentic instrumentation only adds to the sense of dusty despair and sepia-toned antique melancholy.
The lazy swing feel of "Savage Season," jauntily underscored by Lowell John Mitchell's "bantar (typically, an instrument with a six-string guitar neck attached to a banjo body) accompaniment, belies an uneasy notion of something ominous and tragic looming around the narrative of the lyric. A lonesome desolation pervades, like a steady driving drizzle on a gray day in the dead of winter. Gina Noell's backing vocals add a '20s blues, "Frankie And Johnny" sensibility to the presentation, while the bantar and the wraithlike slide guitar solo in the middle are hewn more from the woodsy, traditional country stock. Bazza's Leon Redbone-like, crooning baritone adds even more to the old-timey aspect of the arrangement.
Dan Davis' vaguely funky bassline and Green David Platt's enthusiastic conga rhythms lend the arid tale of "Joe's Bumpy Ride" a bit of Stonesy "Honky Tonk Women" meets "Sympathy For The Devil," motivation- the lyric of this song refers to the first cut, "Savage Season," this time from the aspect of hanging out at the local drive-in, in this god forsaken, savage season ravaged, town. Gina Noell's sassy background vocals nicely balance Bazza's wry, Cashian delivery. "Casino Moon" is sort of a weird Jerry Jeff Walker-like, western recasting of the standards "Moonlight Bay" and "By The Light Of The Silvery Moon," fused together with Gram Parsons' "Hickory Wind" and welded on to Zappa's "Concentration Moon." Strangely compelling.
Bazza sets up an appealing, clippy cloppy, JJ Cale-ish, shuffle rhythm on drums, or drum machine. for "King Of Illegitimacy," Brainard's slithering dobro guitar fills, expertly buff out the spaces in the "Bill Bailey"-like solo section, while Bazza sings like Merle Haggard on magic mushrooms. Fun. "Neil's Coffin" references Harvest-era Neil Young with more loose, Stonesy rave ups of the "Honky Tonk" persuasion, with Brainard's sizzling lap-steel guitar kicking up a ruckus.
Moving into a Dylanesque mode, with "Drive Around Everywhere Girl," Bazza approximates a Nashville Skyline version ofBlonde On Blonde's "Just Like A Woman," with Brainard's lap steel taking up where it left off on the previous number. The dreamy "Amethyst The Queen" is a minor-key blues affair, with Gina Noell contributing highly effective harmony vocals over more of Bazza's Dylan-colored deepsea observations. "On a starry night/With the moon in sight/the clams they dance/Without their pants/It's the old softshoe/Wah wah woo woo woo." Lowell John Mitchell's smoldering electric guitar solo is a highlight.
Brainard's Mexicali-flavored dobro intro and fills adroitly spur "Coming Storm," a song which bears some resemblance to Townes Van Zandt's "Pancho and Lefty," as if performed by John Prine. Diana Wild's stellar support vocals on "Through The Gaps" are a thrilling  counterpart to Bazza's whacked out lead- possibly modeled after the quavering, high tenor twitter of the original Ink Spots' Bill Kenny. Well done.
The lonesome ode "Parental Rights And Wrongs" is a somewhat twisted Texas style barbecue of the Ozzie and Harriett/June and Ward Cleaver lifestyle, with an unsettling lyric: "You turned the puppies into doggies/You turned the kittens into cats/You turned your children into men and women/You are the parents of the past/You turned the paper into assets/You turned the rock star into gold/You rode the buses down to Selma/You are the parents of the old." Scary kids.
"Gold & Brown" is a '20s hula send-up, with call and response vocals between Bazza and Gina Noelle, with stalwart ukulele rustlings administered by Lowell John Mitchell. "Dunked And Missed" is a tad more directly autobiographical than most Bazza songs, hammering on a droning 12 string guitar, a delta raga of the Bo Diddly persuasion, with touches of Jimmy Page's playing on Zep's "Gallows Pole" from Led Zeppelin III.
Bazza has put together his most rewarding recorded set yet. The combination of seasoned veterans serving as his back-up band, combined with the fact that this is his most consistent songwriting outing ever. Each song relates to the next, melodically and thematically. While his voice is somewhat creaky and croaky, it is still very evocative, and is the perfect vehicle for the idiosyncratic subject matter of his songs. And while he may never find widespread sales and intense media attention, Bazza can remain confident that his work is very special and especially unusual in a lockstep, cookie-cutter world.