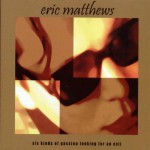 Six Kinds Of Passion Looking For An Exit
Empyrean Records
Eric Matthews may not be prolific, exactly, but at least he is dependable. Though it's been seven and a half years since his last release, Lateness Of The Hour, he has maintained rigidly high standards regarding production and the quality of his songwriting. With musical references informed by '60s acts, such as the Beatles, the Beach Boys, Love and Burt Bacharach, the Gresham native incorporates an unique and decidedly stylized musical world view, with ornate orchestrations and panoramic arrangements, all created with analogic intentions. As the liner notes proudly assert: "No computers were used in the production of this album." The implication being, it would seem, that all the notes on the instruments were actually played, as opposed to being cut and paste pastiches, and that the vocals were literally double-tracked as opposed to being electronically doubled.
In the eleven years since he broke on to the national music scene with Aussie Richard Davies and their duo Cardinal (and their sole, self-titled album), Eric managed to release two critically acclaimed solo ventures for SubPop. In the intervening years, he has become a highly sought-after side musician, playing with the likes of Tahiti 80, Smokey Reuben and our own James Angell- with whom he shares an affinity for gorgeous, off-kilter melodic excursions with moodily unorthodox lyrical content, although they are certainly two different artists.
Not much has changed with Matthews' sound. His music is still embroidered with luscious filigree, layers of keyboards and guitars, with the occasional trumpet interlude, accordion or a chorus of thick vocal harmonies. (he sings all the vocals and, for the most part, plays all the instruments).  His songs are serious and intelligent, thoughtful and thought-provoking. His voice is a high breathy whisper, not unlike that of the late Nick Drake. At times the effect is akin to '60s folkie Donovan fronting Roxie Music. But, at other times, he ably constructs piquant majesties of some lasting artistic merit.
The first of the seven songs found here is "Worthy," a song wherein Eric faintly recalls Ed Roland's vocal on Collective Soul's "The World I Know," with a lot of breathy, angst-riven emoting; while, lyrically, he sketches the parameters of a restless romance. The memorably pretty chorus is a slice of '80s-style Bowie- with a haunting backing vocal hovering an octave higher above the lead.
Overwrought would be another good word for "So Overblown," as Matthews continues his vocal histrionics- distancing himself, somewhat, from the intimacy of his words. Whatever the case, it can be annoyingly cloying at times. Moony piano phrasings and wispy acoustic guitar are buffeted by an elastic lead guitar line and occasional trumpet interludes. A pleasant enough number that never seems to really go anywhere.
"Cardinal Is More" seems to refer directly to Eric's old band (which apparently broke up acrimoniously) and is much more accessible, because he sings the song in a less mannered, more straightforward fashion. And though that vocal is a bit distorted in places, it is still filled with real emotion and not some mere facsimile.  The lyric and melody of "Underground Song" briefly intersects with the Rascals' 1967 hit, "How Can I Be Sure," on the line "why must I be constantly failing." Angelic three part harmonies, reminiscent of those found on the Doobie Brothers' "I Cheat The Hangman," decorate the simple acoustic guitar accompaniment.
English Settlement-period XTC comes to mind on "Do You Really Want It?," while '60s flavored trumpets dance across the middle section like an outtake from Love's classic album Forever Changes, with Eric's drippy vocals in the verses vaguely echoing Arthur Lee. Likewise, the turn on "You Will Be Happy, mirrors Brian Wilson's crying falsetto vocal on the Beach Boys' "Caroline No."
And, with a Beatles-esque "Penny Lane" opening, "Black To Light Brown" dances on Eric's marching McCartney-like piano chops and a general sensibility akin to that of Jellyfish in the mid-90s (which isn't all that far-fetched, given that Matthews has worked from time to time with former Fishman, Jason Falkner). It's a short little ditty, mostly taken up with trumpet solos at the end.
Eric Matthews is certainly the sum of his influences. That most of those influences are forty years old not only speaks to the longevity of the music created back then (for Eric wasn't even born when that music was originally released), but to the paucity of inspirational ideas that he has encountered in the interim. His talent is undeniable, if, at times, ineffable. It isn't genius that we have here, but it's the closest thing to it, these days, that we will probably see.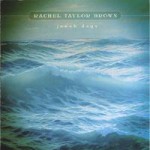 Jonah Days
Self- Produced
We last heard from Rachel in last June's issue of TL, where she commanded attention for her album Do Not Stare; displaying an abundance of promise, both as a songwriter and as a singer of some considerable talent. With this album, that promise is most certainly fulfilled. Whereas the former album was a bit of a musical stew- combining numerous styles and elements, there is a decided theme to this album. This album is to music what John Sayles' The Secret of Roan Inish is to film: an enduring folk tale, rich with timeless images. Inspired and original
The first five songs, especially, form a piquant little suite- suitably fitted with biblical imagery and a sense of windy gothic darkness, worthy of the Bronte sisters- while providing enough melodic turns on familiar musical settings to keep the songs fresh and new. Waltzes play a big part in the proceedings; with nearly half of  the dozen songs found here dancing in variations of ¾ time. So, an old-time folk motif pervades- but it is not the only musical weft in the weave, as elements of rock, blues, gospel and country are plainly present- as are threads of medieval chant music, classical allusions and a general trend toward the antique.
The album begins with the title track, in 6/8 time, which evokes the biblical Jonah with lines such as: "You've tipped the boat and no one saves/These are your Jonah days/You're in the whale and in the waves/These are your Jonah days." Rob Stroup (Baseboard Heaters) adds guitar thickness to the mix, while bassist  John Huckfeldt (Gravelpit, Jesus Presley) and drummer Derek Brown (also of Baseboard Heaters) provide a sure hand in the subdued rhythm section. Rachel's scintillating multitracked vocal harmonies blend spectacularly with a muted horn section; as the song seamlessly evolves from a country-flavored folk hoedown into a bluesy, gospel-tinged sendup of the highest order. Rachel's controlled, ballsy lead vocals are masterful, to say the least.
"Jolyon" is another beautiful little waltz about "A good man, a sweet soul/Jolyon/An old man, a bank roll/Jolyon" over sweetly singing acoustic guitars (abetted by the ubiquitous Tim Ellis) and rolling piano arpeggios by guest Chris Robley (The Sort Ofs), while Rachel evokes Emmylou Harris, Shawn Colvin and the acoustic side of Tori Amos, with the shadow of Dolly Parton suspended above it all. Great. A ghostly tale, "Stones" jangles like a pebble in a hubcap, with guest Philip Neuman (Oregon Renaissance Band) providing the wheezy lead on an instrument that sounds something like an oboe in heat. "Young David the Pitiful/Carried a sack/Stooped like a vulture/Ruined his back."
Another rollicking waltz, "She" features a swooping "I Am The Walrus" cello, provided by Skip von Kuske (Carmina Luna) and round-toned clarinet by Theresa Schumacher. Delightful, Beatlesesque backing vocals by Rachel and Rob Stroup are abetted by Derek Brown's Ringo-like drum fills. Very Abbey Road. Rachel's slow, descending melody for "Nadine" falls like a high leaf from a tall tree on a still day. The eerie tale of a sluggish plunge into something resembling madness. "Out under/The sidewalks/Is plenty/Of nothing/And nothing's exactly what you get."
Derek Brown's jungle toms drive "Home," as, vocally, Rachel moves closer to Kate Bush territory circa her Hounds Of Loveperiod, perhaps recalling "Waking The Witch." And, when John M. Boyer steps in for the cantorial passage in the extended fade,  Bush's "Rocket's Tail" from The Sensual World is suggested. A restless waltz, "Happy" weighs the uneasy balance between a wedding and a marriage. One is a ceremony, the other is a lifetime commitment. And with the hard glint of truth shining through the blinders, it's difficult to maintain the fantasy of the former, looking at the often rigid reality of the latter: "Picked out the colors/Purple and blue/'A bit like a bruise' said my mother/She isn't convinced/That I'm crazy for you/That I'm happy."
The joyous fast moving train, "East County," is a piquant paean to the vicissitudes of life some distance away from the city lights- which, in Portland, is something of an acquired taste: "Sister walks to the bus/Every morning/Past dead possums and lots of junk/Ain't no sidewalks/So she's right down in it/Cars come close and make her jump/You want something?/You just cruise down 82nd/They got everything you need/Get your taco/Maybe do some shopping/We're open all night, you know." Stroup's pedal steel-like guitar backing adds a country twang to Rachel's earnestly ironic platitudes and homilies. Derek Brown's vibrant drumming and Huckfeldt's restrained counterpoint bass expertly hold down the rhythm in this vague, cornpone remake of Dire Strait's "Money For Nothing," (as performed by New Riders of the Purple Sage). A delightful song.
"Lucky" is a sprightly, twisted little ditty, with threats of ritualistic physical violence looming in the corners of the imagery. " You know I never meant to maim- just scar for life/And though you never looked the same, I kept the knife/It's kinda weird how a simple tool can make you cruel." With oom-pah tuba and trombone creating an antique veneer, "Venice Is Sinking" is a three-chord homage to dreams and their fragile vincibility. Only a minute long, in essence, and obviously recorded at home on her piano (Rachel's cat makes its presence known, midway in the arrangement), "Commencement Address" serves as a piece of advice to a younger generation- and may be exactly what it purports to be: a wry introspection into the changes that befall everyone, eventually.
Rachel Taylor Brown displays special talents as a singer and writer, with the ability to make her work stand out as being entirely original, while its roots remain firmly planted in familiar turf. With an able cast of supporting players, she has created an album of gravity and substance, haunting in its charm- memorable in the grandeur of its effortless simplicity.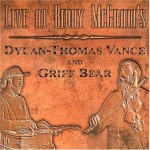 Live At Biddy McGraw's
Triple M Records
Over the past few years, guitarist Dylan-Thomas Vance has shone steady stylistic improvement, displaying an affinity for delta blues, bluegrass and country, while quickly mastering lap slide guitar arrangements that have been in the vernacular for nearly one hundred years. Releasing a couple of albums in the past few years, this is a live recording of Dylan's guitar work- aided and abetted by fiddler Griff Bear.
Together they explore an extensive body of old-time music, with a few curveballs thrown in for good measure. From Robert Johnson and Hank Williams to Bob Dylan, John Prine and even Bill Frissell- a far-reaching repertoire of cover songs, with a couple of original pieces thrown in for kicks. Recorded over the course of a year of Tuesday nights at the vaunted club at 60th and NE Glisan, the album is free of typical studio enhancements: sounding not unlike a John and Alan Lomax field recording from the '30s, only with better sound quality. This is pure, unadulterated music, with all the gimmicks and gewgaws removed.
And, while that is an admirable approach, it does not always necessarily ensure high caliber entertainment. And such is the case for this album- which suffers from uneven performances along the way- even as Vance displays an ever-growing facility for his instrument. While he shines in many instances, especially as an instrumentalist, he is not always so successful as a vocalist. As a singing guitarist, Vance is in no danger of approaching the grandeur of, say, Leo Kotke or Joe Satriani.
Take, for instance, his terrible vocal reading of Hank Williams' "I Saw The Light," a white gospel send up if ever there was one. Vance "plays" with the melody line of the song, hacking it up mercilessly- until it is a chewed up piece of aural gristle. Not good. And, as a result, Mr. Bear seems uncertain, at stages, as to what key they are actually playing in. Fortunately, after about a minute of this misery, they break into a spirited instrumental duet that truly is a relief for all involved, and a much better example of what these guys do best. The decision to perform a second verse is questionable, but it leads into some very tasty solo work from Dylan.
His vocal on Johnny Cash's "Let The Train Blow The Whistle" is more successful on a sort of gruff, John Prine-like, level. But his slide guitar work is gloriously pristine. His rendition of Robert Johnson's "Stones IN My Passageway," is the sort of hellbent blues rave-up that is right in Dylan's wheelhouse. His guitar work is superlative, while his vocal is tolerable, and perhaps better suited to material such as this. His own original tune, "Redemption" is an epic number, straight out of Robert Johnson territory, full of flashy guitar and fiddle interplay, as well as Vance's sterling solos. Frissell's "Go Jake" is given a playfully faithful treatment, with Bear's violin expertly echoing the lead line. A very satisfying performance. In this instance, especially, the acoustics of the venue lend a warm live ambience to the proceedings, in a beneficial way. Very nice.
Bob Dylan's "Buckets Of Rain, which Vance also covered on his second album, receives an accurate presentation, with Bear providing fine backup. But it's all a bit mundane. And there may be a couple of better choices than "It's A Big Ol' Goofy World" to select from the John Prine repertoire, though the musicians seem to be enjoying themselves in laying it down. Dylan's take on the spiritual, "9 lb. Hammer" (a version of which Vance released on his first album), is energetic and feisty, with Bear staunchly backing him deliberate fiddle chops. Another traditional number, the field holler "Rollin' & Tumblin'" benefits from strong ensemble work and lively solos. Finally, Mr. Bear's original "Sunset In Oregon" has a certain Prine-ish sensibility, though it kind of drags coming down the home stretch.
Pruned of a few songs, this could be a great album. While there's nothing inherently abhorrent with the filler material, it does seem to be a bit of a distraction, lessening the impact of the better stuff. Availed of a few more choice morsels… Still, this is a workman like effort, all the more exceptional for the fact that it's recorded on an extended series of Tuesday nights, which seem to be rather sparsely attended. Yet the spirit is still there shining through each selection, weak or strong. Dylan Thomas Vance and Griff Bear have created an album with a strong instrumental presence, one that is worthy of closer inspection.