Vasectomy 
(with Remixes by Auditory Sculpture)
Self-Produced
out of print
Looming large (as it were) upon the Portland scene for the past three years or so, Storm and the Balls have taken the town by, uh… well, by force. The late 2003 release of their album Hanging With the Balls, was met with widespread acclaim by the public and critics, alike. Storm (whose largeness is no hype, standing over six-feet tall, in her bare feet) simply smolders, singing on a variety of hybrid cover songs, which are chopped and welded more finely than an expensive, stolen car.
The band, comprised of former Sweaty Nipples bassist, Davey Nipples, Everclear keyboardist James Beaton and drummer Brian Parnell, capably fuses smoky jazz elements with a laidback lounge feel, through an amalgam of rock favorites, to create an unique musical blend. With the benefit of Storm's largely uninhibited stage demeanor, chock full of overt innuendo and subtly sultry double entendre, the band fairly cooks live. The aforementioned album managed to capture the musical allure of the band, while lacking altogether, by definition, the visual appeal Ms. Large most definitely emits within the live experience.
Here, however, the songs presented, culled from the Hanging With… sessions, are given the Keith Schreiner treatment: fleshing out the inherent sensuality within the material with his unerringly keen sense of voluptuary rhythmic contours and melodic shades of sybaritic darkness. The ubiquitous Schreiner, who seems to be appearing on about two recordings a month these days, lends his special brand of techno mastery to the mix, creating a dark atmosphere of loops and phrases around the duskily tempestuous urgency of Storm's delivery and the rapturous fog the sidemen impart.
The band specializes in the wry juxtaposition of songs within an arrangement, mixing Van Morrison and Ministry on one track, Curtis Mayfield, and Francis Scott Key on another; imbuing each with an unique perspective, in a molecular collision of styles and content. And at the eye of the storm, is Ms. Large.
Their collective rendition of "Van Ministry" is a good case in point. Over the familiar machinery of Schreiner's mechanical beats, the band lays down a cool groove, upon which Storm floats, cooing the lyrics to Ministry's "Stigmata" in tandem with an electronically generated Large male voice, singing in unison, two-octaves below. Midway, the song segues into the back half of the chorus of Morrison's "Moondance," finishing by splitting between the two songs.
The Balls' version of "Lilac Wine" is probably more in the spirit of Nina Simone's original, than Jeff Buckley's cover version, which came thirty years later- an eerie cast spelling supernaturally in the pall of Schreiner's spooky mix. Hypnotic. Ghostly. Their reading of Bad Brains' '80s hit "Sacred Love," is reverential, but in keeping with the acid drip mix feel of  the whole affair. Bluesy. Moody. Their take on Johhny Cash's "Long Black Veil" is given a Cowboy Junkies meets Portishead sort of  treatment (with guest accompanying vocals from Mic Crenshaw of Suckapunch). Yikes!
The band interlaces strands of Kurt Cobain's "Smells Like Teen Spirit" with "About A Girl," in a bit of  a Nirvana mini-tribute. Beaton's chunky wah-wah electric piano and a repetitive bass figure serve as the pinion for this spacey excursion into acid jazz, with Storm's vocal portraying the lead instrument. The compounding of "The Star Spangled Banner" with Curtis Mayfield's "The Pusherman," from the Superfly soundtrack, works better on paper than it does in reality- with the national anthem being melodically wrenched nearly beyond recognition, while the funk piece is impaired by misplaced arpeggiated string loops that don't do much to further the arrangement. A bit disjointed. More reminiscent, perhaps, of her earlier work with the Bay area acid jazz group, the Broun Fellinis.
Storm's highly touted "stalker" version of Cheap Trick's "I Want You To Want Me" seems not so much fixated, as resigned, in its sense of desperation. However, when given the opportunity to cut loose, vocally, in the denouement of the song, it is easy to understand why Large has been a decidedly desirable rock commodity for many years; since her days in the Bay area, in the '90s, with Storm & Her Dirty Mouth.
Not so strangely, one of the more successful tracks among the nine presented is the majestically wraith-like "Shake It To Life," an original number. Storm's vocal harmonies seem legitimately sung, instead of electronically dubbed (although Schneider does loop her voice in places), with a vocal melody worthy of Flora Purim in her Return To Forever days. Very cool. Weepy synth-strings augment the fairly straight-ahead interpretation of John Denver's "Leaving On A Jet Plane," with, apparently, not a shred of irony within the performance. Wow!
While the concept of an ersatz lounge band, sarcastically commingling disparate songs into a pithy new silk purse is neither new nor particularly revolutionary, Storm Large and the Balls do it about as well as anyone; owing in no small part to our hostess' flair for the ribald and the bawdy. This aspect of the band's popularity is far better realized on stage than on record, especially: this record.
Here, Keith Schreiner becomes the focus, with Storm hovering somewhere near the center and the rest of the band drifting through from time to time. It is Schreiner's mixes and arrangements that stand out- and, truth to tell, they are not among his best work. Were this band to perform more original material, then Schreiner's idiosyncratic mixes would still have to take a backseat to the real emotions being expressed in the song, ala "Shake It To Life." But with the tongue in cheek nature of the cover material, Schreiner's darkling accoutrements seem out of place and somewhat artificial. A kazoo, a duck call and a slide whistle might be just as appropriate, in this case. At least then, the ostensible humor in all of this would not be entirely lost.
The Ditty Twisters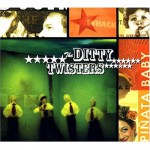 Piñata Baby
Dirty Girl Records
So you want to make your way in the music world? You want to succeed? I've got one word for you. Swag. "Schwag" for the Teutonic among you. Swag makes the world go round. Swag can make the difference. Swag can open any door. Wanna get your band noticed? Swag. What makes a king out of a slave? Swag. What makes the flag on the mast to wave? Swag.
Now, heretofore, the finest piece of swag which I, personally, had ever received, was from the band Bombay, who thoughtfully sent me a couple of bottles of Bombay Sapphire gin and a swell one-of-a-kind martini glass by which to imbibe. Fine swag. Very fine swag. The cleverly named Ditty Twisters went that one better.
From the Ditty Twisters I recently received a colorful piñata (promoting this here disc, Piñata Baby), chock full of  various goodies and gewgaws. This, I can assure you, to any critic on the face of the planet, is gold. It may not make him like your band. But rest assured, good people, he willlisten to your record.
Now, I retain a modicum of integrity, at this late date in my "rock journalism" career. I'm not about to review a band, simply because they send me unique swag (though it really can't hurt). In this case, the band made my choice very easy. They are not only a lot fun, they're great. Their second album release is a hoot (their first was 2003's Vicodin Saturday Night). In fact, the material that Marie Murphy and company toss off is precisely the type of stuff that Storm and the Balls ought to be checking out.
The Twisters' songs are witty, pithy and raw, raw raw; while the musicianship of the backing band is impeccably tight. Frequently compared to the '60s girl band the Shangri Las, as well as to the B-52s (which is far more accurate), the DTs, with two deft female back-up singers, sound more like the girls of the Donnas backing Christina Amphlett of the '80s band the Divinyls, or Chrissie Hynde's Pretenders, with an occasional  streak of country twang running through them, to boot. A good start, to be sure.
The title track rides upon a snakey riff from guitarist Alan Monk, reminiscent of Rick Miller of Southern Culture on the Skids. Murphy's vocal recalls Martha Davis of the Motels, on one of their rockier tunes, "Mission Of Mercy." With a twist: "So full of all the good stuff/So sweet, inside and out/If I beat you with a stick/I bet I could make you twist and shout." Yow! "Smart Chick" comes from a Donnas point of view: "I'd rather you hooked up with a giant skank from Hooters/Than some clever little writer who volunteers and tutors/But you screwed a smart chick/You broke the rules."
The three covers among the eleven songs found here, are interesting selections, representing a wide swath of popular music. Their interpretation of Dead Or Alive's '80s hit, "Spin Me Round," is rocked out, with bassist Matt Tracy driving the song behind Monk's restrained electric guitar and drummer Bob Thompson's insistent beat. The two-part female harmony vocals provided by Pat Janowski and Courtenay Hameister, sound like Bananarama backing Murphy's  Courtney Love. And that's not necessarily a bad thing.
The band perform a faithful adaptation of the '90s cult classic, "Bad Word For A Good thing," by the Philadelphia-based, all-girl surf band the Friggs. Possibly the most surprising cover, is the Twisters' take on AC/DC's "Whole Lotta Rosie," "Whole Lotta Jose." Murphy's vocal vaguely recalls that of Lydia Pense in the early '70s band Cold Blood," then considered to be another Janis Joplin. The comparison rings somewhat true here, as well.
"Dirty Girl" sounds like Christina Amphlett backed by the Bangles. The faint cowpunk of "Rodeo Queen" calls to mind Johnette Napolitano of Concrete Blonde. "Demi" the story of  a has-been "silver screen starlet" (any bets on Demi Moore?) conjures Linda Perry of 4 Non Blondes fame. "Skedaddlesville" could pass for a wry John Hiatt number, along the lines of "Cop Party," with a darker edge. Luscious three-part vocal harmonies embellish the turns. "Take Me" is the hit of the litter, with a slippery beat, a hard lyrical edge and a vibrant feel, in the neighborhood of Throwing Muses or the Breeders, perhaps.
The Ditty Twisters are another top-notch band, with roots extending back to the new wave '80s (while possibly refracting the '70s from a great distance). Vocalist Marie Murphy has a powerful voice that holds up well to the more tender numbers, as well as the harder hitting affairs. The band ably deploys instrumental prowess, with admirable aplomb, in support of Murphy and her solid backup singers. No, the swag didn't persuade me to review this band. That would not have been necessary. Not with this band. Not in the least. Then again. It didn't hurt.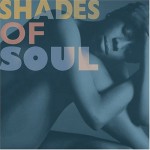 Shades Of Soul
Narada Jazz
Back in the '70s, two of the most popular bands in the burgeoning Portland music scene were Pleasure and the Jeff Lorber Fusion. While Pleasure, with guitarist Marlon McClain at the helm and bassist Nathaniel "Nate" Phillips and drummer Bruce Carter holding down the foundation, Pleasure produced the very finest of  Funk and Soul. Pleasure's album, Future Now, recorded in 1979, featured Jeff Lorber on synthesizer. Later, Phillips and Carter, along with other Pleasure graduates, formed Cool'r, the houseband of the '80s in numerous popular local clubs. McClain and Phillips also played in the techno funk Dazz Band in the '80s.
Meanwhile Lorber aimed his instrumental stylings at the jazz fusion audience, whose interest in keyboard oriented riffage was piqued by the likes of Herbie Hancock, Joe Zawinul of Weather Report, Jan Hammer of the Mahavishnu Orchestra and Chick Corea and Return To Forever. While often blamed for his responsibility in ushering in the career of maudlin reedman Kenny G., and the whole "smooth jazz" movement, Lorber, along with Spyro Gyra, also aided in bringing jazz to mainstream FM radio. Today, there are whole radio networks dedicated to the music that Lorber helped to found.
Over the years, the assorted players went their various ways, with most of them ending up in LA, playing as valuable session men, as well as fronting their own projects. When they reconvened in the early '90s, it was with an idea toward rekindling old ideas in a new vehicle.
This album, recorded in 1994, brings together old friends Lorber, McClain and Phillips (and numerous special guests, including Portland reedman Patrick Lamb, red hot trumpeter Chris Botti- before he had even recorded his first solo album and saxman Art Porter, who died in Thailand in a boating accident, only a few years after this, his final recording session) to forge new ground as well as to revisit old turf. And, even ten years after the fact, this album still manages to sound fresh and new.
With a falsetto as smooth as fine leather, vocalist Terry Stanton brings a sure presence to the silken mood of "All Night Long." Lorber had worked with Stanton on Hidden Beach's Unwrappedseries of recordings, recruiting him specifically for this project. McClain's guitar solo and Phillips' bass solo are especially effective. Porter's plaintive sax, takes the lead on "Then And Now," sounding a bit like Grover Washington in his heyday, with Lorber adding zesty fills in the breaks. Stanton and Porter return on "Enjoy Yourself," wherein McClain delivers the absolute paragon of all funk rhythm guitar passages- worthy of  Willie Woods with Jr. Walker and the Allstars or of Jimmy Nolan in James Brown's Famous Flames.
Botti adds his muted trumpet to "Gazpacho," where Phillips plucky basslines provide the propulsion. The very definition of smooth jazz: with funk elements. Lamb makes an appearance on "Love Come Down," a tune that was a hit for Evelyn "Champagne" King in 1982. Lorber peels off a fine solo in the midsection, while McClain and Phillips handily maintain the momentum. "We Got To Live Together," paraphrases Sly and the Family Stone's "Everyday People," as Stanton returns for the vocal duties, his mellow falsetto comparable to Smokey Robinson or Curtis Mayfield. "Get Wid It" is a keyboard driven number that sounds as if it could be the theme song for an '80s sit-com. McClain's succinct solos serving to give the fluffy piece a bit of funky perspective.
Botti returns on "San Vicente," again adding his seductive muted trumpet to the mix. Stanton lends the title track a Kool and the Gang feel with his smooth, James "JT" Taylor-like vocals. Marlon snaps off a slinky guitar solo that singes the middle of the tune. Lorber and McClain duet through the beginning of "Gangsta Jam," as Jeff breaks out in the turns with scintillating organ-toned keyboard lines. The band gives Roy Ayers' 1976 release, "Hey, Uh" thorough updating, while retaining the inherent funk elements contained in the original.
Smooth jazz (even with funk underpinnings) tends to be glorified background music, lacking the melodic and rhythmic characteristics necessary to really stand out. However, the chops that Lorber, McClain and Phillips employ are a cut above the average smooth jazz album- offering the conscientious listener great rewards for an attentive audition.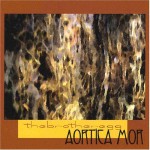 Aortica Mor
Bingo Lady Records
Far from the fuel of the inklings of the celebrity press, dwell Adam Goldman and The Brother Egg. Composed of intelligence, wit and invention, The Brother Egg wist in wan shambled shades, easily the equals of Colin Meloy and other Decemberisms. Hard to pin down with the shackles of simile or oblique comparison. XTC and Flaming Lips: at times, but as often as not, mostly just themselves. Quixotic musical chameleons. Passive aggressive. Too smart, perhaps, for their own good.
Goldman sings and mumbles thoughtful lyrics, sometimes, as with "The Arsenic Kiss Of Wet Lips," rather obscurely. "Penny Farthing" contains glimpses of lyrical grandeur: "I circle like a shark/ I follow like a weekend." Well, of course he does. But with the lovely waltzes (more frenetically so, the latter) "Dandelion Wildfires" and the strangely compelling "Evening," a deep, rich melodic sense rises to the fore. With Sam Ross on bass (cello, keyboards, vocals), Tofer Towe on drums (keys, mandolin and vocals and Chris Kalani Gabriel on guitar (keys, clarinet and vocals), joining Adam on guitar (and lead vocal), the ensemble demonstrates estimable euphony, unique and quaintly arcane, with chops and ideas aplenty.
Chanteuse Kaitlyn Ni Donavan, a frequent member, adds violin and viola to tracks such as "Theta Clear" and "Mercury Retrograde," with occasional guest Jeff Henry contributing rumbling baritone sax and recorders on the latter. The instrumental, "Persanity Insonified," lives up to its name, a synth (sounding like a theremin) and viola mélange of some specific cosmic gravity, as yet unknown: spacey and alien. Cool. "Wind Chimes" matter-of-factly drops a brief melodic reference to Brian Wilson's Smiley Smile piece of the same name while rushing headlong breathlessly. "Pincher," like the first song on the album, mad hatters momentarily (with Kaitlyn adding a vocal) before falling to the floor.
Lords of the flies and frogs swirl and croak before dissolving into "Deep Back Woods," a woozy daydream: "Flies flutter inside we divide and subdivide." Well, of course we do. Kaitlyn and Adam sing in scary unison on "Smoke Signals," with Kait so close mic'ed she sounds like Claudine Longet (look her up) cooing softly on this slippery bossa nova. Adam's curious, freeform vocal delivery on "What The Zoo Did To You," cartwheels across a dither of a verse, before alighting with great piquant preciousness upon the line: "Stars move while I remain stationary beneath them," which is simply gorgeous in its odd, disoriented splendor.
The off-kilter love song "Inventions," makes perfect sense if you listen to it with one eye closed. "Ravinia" stutter steps in Goldman's familiar fashion- ram jamming words into melodic syllables like so much sausage into a pliant artistic casing. Frank Zappa (were he still with us) would appreciate some of the anomalously perplexing musical interludes found here. "That One Salty Sea" is a trip down memory lane… for your DNA.
Determined to throw you off the track, the Brother Egg are as elusive as an honest man in a snowstorm. The lyrical stream of consciousness runs tributarily into rivers of not quite understanding. A waterfall rushes. A cloud passes. A bird calls in the distance. Oranges and apples, standing proud and tall together. You know, the Brother Egg are much too good for you and you don't deserve to hear them. You wouldn't understand what they were doing anyway. It's just one person's inkling.
The Get Me Downs
Former Sugarboom-ers guitarist Michael Donhowe and bassist Anne Stark have assembled with former Pilot drummer Eric Alto to form a nifty little trio with a bit of a retro stance. Romeo Void's "Never Say Never" comes to mind with "Candy Hungry," as Stark belts out a hard hitting vocal over a driving bassline, with Donhowe providing the ballsy low-string guitar riffs and upper string wails.
Donhowe starts " Not Satisfied" off with Delta finger picking before launching into a '60s-ish (think the Yard birds' "For Your Love) rocker with twin vocals from Michael and Anne. "Fastcar" sounds like Debbie Harry fronting the Romantics, with Stark sharing the vocals with Donhowe in the chorus. "Poetry Slam" is definitely in Deborah Iyall territory, Stark's vocal approach again harkening to Romeo Void.
"Touch You" has its roots in the Champs' "Tequila," with Stark ululating resonantly like early Chrissie Hynde. The hit of the set is "Sexsie Volvo," with it's infectiously explosive chord turns on guitar, combined with Donhowe's Mike Love informed vocal, makes of this one of the best car songs since the Beach Boys' "Little Deuce Coupe."
The Get Me Downs are a four on the floor, double-clutch trio with a bit of horsepower. They are raw and raucous and ready for action. There's nothing really new here. But the band provides enough creative turns to prevent their music from ever sounding entirely imitative or mundane.