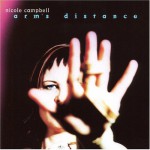 Arm's Distance
Wrought Iron Records
Having been on the local scene for over a dozen years, Pendleton-raised singer/songwriter Nicole Campbell is a seasoned veteran at this point. She honed her chops in the mid-'90s with Ivan's Wish, a band which released one album during its lifespan. Later, Nicole sang backup with numerous local aggregations, while launching her solo career at the same time. This is her third solo release in the past six years, with Little Voices, released in 1998 and Songs From the Red Room, from 2001 (produced by Tony Lash), preceding it.
The genesis of this album spans several upheavals, both musical and personal, as Nicole first recorded the album with Simon Widdowson at Are You Listening? studios. Not entirely satisfied with the outcome of the project at that point, she withdrew from the whole process, to be with her family during her stepfather's decline and eventual death from the ravages of cancer. Upon her return to the recording of her new album, Nicole determined that she would enlist the aid of Keith Schreiner (Dahlia, Audio Sculpture and recently, Suckapunch) to help sweeten the basic tracks. Then, she halted the project again, this time for more salutary reasons- she got married.
As might be expected, Schreiner lends beatbox pulses, electronic luster and a distinctive ambient sheen to many of the cuts- which also feature the talents of keyboardist James Beaton, bassist Leah Hinchcliff and cellist Skip Von Buske, among others along the way. The songs themselves are mostly typical of  Nicole's oeuvre: thoughtfully introspective, broodingly contemplative. As is her bent, her lyrics are full of images of rainy windows and windy moons, as well as to references of dreams and other illusory acuities. Her music veers from country flavored numbers such as "Real Love"; to thicker, denser electronic/folk fare ("Why Goodbye"), along the lines of Beth Orton; to songs with a poppier, upbeat feel ("BSA" and "Idle Hands").
What is most noticeable here is Nicole's willingness to explore the lower register of her singing voice, where far fewer contemporary female vocalists tend to reside. In the past, her penchant for singing in her pretty upper register, led her to sound sort of like Shawn Colvin or Sarah McLachlan. And, though she still chooses to employ McLachlan's annoyingly cloying emotive yodel far too frequently, when Nicole does  utilize that lower register, she brings a darker, duskier quality to her material- distantly reminiscent of Patsy Cline, Cher and Annie Lennox combined into one.
The lead track, "BSA," is probably not about the Boy Scouts, nor a British motorcycle- but seems to be an account of a relationship which is embarking upon a new plateau; having apparently survived and thrived through the first stage. Jangling electric guitars (with, possibly, an electric 12-string in the mix) commingle with Beaton's swirling keyboard phrases, Hinchcliff's propulsive basslines and Von Buske's rueful cello interjections. A pretty vocal melody serves to make this one of the more accessible songs among the eleven presented on this outing. Slightly awkward drum loops, ostensibly laid in by Schreiner, fall far behind the beat; seeming, at times, to be nearly at odds with the rhythmic movement of the other instruments. Strange.
Conversely, "Break Away Clean" is a bleak ballad about the other end of a relationship: one that is crumbling. Nicole contributes a vocal that reminds of Mary Fahl of the late, lamented October Project, whose song "Bury My Lovely," released in the mid-'90s, was the only hit for that short-lived band. Margo Timmins of the Cowboy Junkies comes to mind as well.
Schreiner's machinations are far more successful on  "Why Goodbye," a Beth Orton meets Tori Amos sort of number. Syncopated drum beats lurch beneath a foggy wash of keyboard debris and pedal point bass, as Nicole trots out a few vocal mannerisms she has never utilized in the past, including a breathy, back-of-the-throat delivery most frequently associated with Orton. Moving from the third-person viewpoint of its predecessor, "Hopeful Heart" continues the mood from the first-person, with the same "rain soaked window panes" appearing in both songs, observed from different perspectives.
With a lyric crafted from the same cloth as the famous lines from Ecclesiastes 3:1-8 in the Bible, "Serendipity" echoes similar sentiments: "There's a time to push and a time to pull/And a time to be quite still/To let what will, will/There's a time to run and a time to stay/And everything in-between/Will work out anyway, just you'll see." A slow, gentle musical arrangement, with sparse filigreed piano accompaniment, augments the emotional forthrightness of the song.
With a pedal steel guitar moaning in the background, "Real Love" treads dusty country roads, with a memorable chorus and a well-constructed bridge. Perhaps one of Nicole's better vocal performances on this album. "Song For Diana" memorializes a lost friend: "You took every bull by the horns/And wrestled them to the ground/You could walk a mile in a field of thorns/And never ever once make a sound." A loving tribute.
An infectious drum loop, Hinchcliff's exuberant bass and a well-placed cello section from Von Buske propel the catchy "Idle Hands,"  whose rampant hooks make of this the winning song of the set. Yodelly vocals abound- an affectation which fails to serve any real purpose in the scheme of things. The song would be just as good without all the gymnastics. And, Nicole, an operatically  trained vocalist, need not resort to vocal tricks to put a song over. Honest emotion and a straightforward delivery are always preferred over a collection of mannerisms and eccentricities.
The title track reins in the aforementioned, for the most part, concentrating more on the piece as a whole, with solid results. Another strong chorus helps to crystallize the song in ones memory. Except for the yodelly thing, Nicole has a voice that does real justice to that of Grace Slick on Jefferson Airplanes cathartic "White Rabbit." Though Schreiner adds a few bells and whistles to the proceedings,  this version is fairly conventional, sticking closely  to the original arrangement.
That Nicole Campbell is a talented individual will never be in dispute. At times, some of the musical choices she makes are somewhat suspect, but that is the function of the artistic process in action. Her music is never static, always in a state of evolution. Here we can hear Nicole slowly evolving a true voice of her own. And, while still in its embryonic stages, that voice emerges more clearly with every album she releases.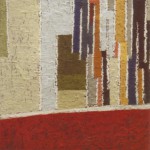 It's Only The Future
Hush Records
To a certain extent, Corrina Repp's solo recording trajectory mirrors that of Nicole Campbell- down to the point that she partnered with Keith Schreiner to record this project. Her first full album, A Boat Called Hope was released in 1998 (an EP The Other Side Is Mud came out in 1999) and her second album, I Take On Your Days, came out in 2001. In addition, she stinted as guitarist with the State Flowers, who broke up a couple of years ago.
Here, Schreiner is completely integrated into the arrangements. His participation is a seamless element in the organic process of the construction of these songs,  rather than as a mere adornment. As a vocalist, Corrina has been compared to Gillian Welch, to Chan Marshall/CatPower, and to Margo Timmins, all of which seem to miss the mark. Her songs and her ghostly, hypnotic delivery also call to mind Nico from the Velvet Underground, Suzanne Vega, and, especially, Laurie Anderson. As if Liz Phair went electronic/folk like Beth Orton. As if Marlene Dietrich were alive today, coming of age in Portland, rather than Berlin in the '20s.
Were Corrina's guitar playing to become any sparser, no sound whatsoever would emanate from the instrument. On several songs, she plays but a single string in accompaniment, creating stark counterpoint (with Schreiner working from that perspective) themes to her haunting vocal melodies. Even that, often spare, guitar only adds to the sense of vaporously vague tension, which is infused into all of Corrina's music.
With "Lost At Sea," Corrina begins the album with a familiar chord digression (utilizing only two strings on her guitar), which is supplemented by Schreiner's planar organ pads and a simple loop beat: comprised, in part, by a rhythmically recurring sample of fingers squeaking on guitar strings. The title track hovers around another simple guitar figure, made other-worldly by Schreiner through the judicious addition of strange effects. Schreiner's divinely odd piano motif joins in at the second verse to cascade like rain from tree branches against the cold clarity of Corrina's lyric: "But it's only the future/And the fact you left home/No matter what you do, you're alone."
Dancing keyboard and guitar notes shimmer like the water in a desert mirage on "You Almost Made It Out, But You Turned Around," perhaps a modern updating of the myth of Orpheus and Euridyce. Think of the Cocteau Twins backing Laurie Anderson and you have a pretty good idea as to the musical terrain this track traverses.
A solitary single-string guitar premise serves as the instrumental foundation for  "No One's Telling," as the apparent sound of feet traipsing through heavy sand serves as the rhythmic impetus, squishing and scratching in 4/4 time. Vocally, Corrina comes on like Suzanne Vega, detached, yet heartfelt- as electronic cellos sputter and groan in harmony behind her. "No one's telling me to go/No one's asking me to stay/No one's telling me to leave/No one's asked me if I feel better, today."
Over splayed electronic bass tones, four descending notes voiced on the guitar are reaffirmed by faint unison keyboard settings on "Have + To Hold." Corrina's half-spoken vocal is highly reminiscent of Laurie Anderson, especially in the conveyance of arid emotions over barren lyrical landscapes. "What's the reason, to have and to hold/When you only let go." More squishy rhythm loops and bristly beatbox brushed snares serve as percussion on "Finally," as a whirring synth whines behind Corrina's plaintive vocal. Mesmerizing.
With simple piano accompaniment and a somewhat different vocal style, "Replaced" treads slightly different ground than in the preceding songs. A hymn-like mood is created, with Schreiner's help, his muted organ tones playing against the gentle piano. Harp-like arpeggiated guitar floats around Corrina's stately vocal on "Here's Someone Else," a winsome melody whispering like the wind in a snow drifted canyon. Very pretty.
"S.S. 5,000" rides upon a familiar hiphop beat, with a tumbleweed vocal that evokes some starless prairie on an oblique horizon, populated by scrub brush and scotch broom. Forlorn. Corrina's interpretation of the Sammy Fain/Irving Kahal standard "I'll Be Seeing You" stretches the song to it's boundaries, without breaking it- an adventurous arrangement, to say the least.
Corrina Repp, with the inestimable aid of Keith Schreiner, has created a world of her own with this ten song flight of fancy. The spellbinding atmosphere, which the duo conjure, fogs the mind, as Corrina's insightful words reach deep into the subconscious, knitting gelid castles  among the windswept corridors of the psyche. Her songs (and their impeccable arrangements) are not so much transcendent as inevitable, their fleeting shapes and colors as mystic as the northern lights, as plain as a December gray sky. Here is an artist for whom whose muse has been purely captured and rendered, as the fine tracings of frost upon a windowpane. Exquisite. Free of artifice or pretense. Real and true.
Greg'g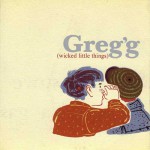 Wicked Little Things
Self-Produced
CD out of print
Here's a fine album from two local scene veterans, singer/songwriter/guitarist Greg Paul and drummer/percussionist/producer Gregg Williams. Both musicians have been members of local bands since the mid-'80s, with Paul beginning his career as lead guitarist for the Surf Cowboys, and, later with Sing Sing Sleepwalker; and with Williams honing his chops with Jack Charles' Mien Street, and later with Quarterflash. In the intervening years, Greg Paul has maintained a career as a sideman and producer, as well as maintaining his relationship in a songwriting team with his brother David Paul. Through the years, Gregg Williams has continued to work in the studio, both as a drummer for a variety of acts (Kerosene Dream, Kaitlyn Ni Donovan, Stephanie Schneiderman, Nancy Hess, Jim Walker, Pete Droge and Sheryl Crow), as well as acting as producer (Dandy Warhols, UHF, Little Sue, the Countrypolitans and the Bella Fayes)- seemingly appearing nearly everywhere, nearly all the time.
The music here bears a certain country/folk sensibility. Paul's honeyed tenor is affable, yet expressive, as if a boyish Paul Simon grew up on the West Coast, with lo'ts of haRd Rs an' dRopped Gs an' Ds in the dic'tion. While sounding more or less like him at any given time, the musical sensibility of Tom Petty in the '90s (Full Moon Fever and Into The Great Wide Open, early in the decade through Wild Flowers and Echo in the latter half) casts a long shadow over this album. Influences too, can be heard in the work of Squeeze, Crowded House, the Kinks, Marshall Crenshaw and myriad other bands from the '70s and '80s. As a guitarist, Paul is quite accomplished. And Gregg Williams provides a tremendous palette of percussion from which to build each song; varying the tone and texture of his drums on nearly every one of the twelve songs and two instrumental numbers found here.
The lead track, "La La," seemingly comes direct from those Jeff Lynne-produced Petty albums of the early '90s, with Beatles-esque background harmonies. Very catchy, with a Ray Davies twist to some of the nuanced verses. Paul's tightly ratcheted guitar solo is written straight out of the Mike Campbell (Heartbreakers' guitarist) playbook.  "Lucky Strike Man" rings more reminiscent of latter '90s Petty- with a touch of the parable to the lyric and  more direct and personal production values. The Eagles and Lyle Lovett, too, come to mind in the pretty chorus, in a cautionary tale about the danger related foul habit of cigarette smoking.
"Beautiful Man," as with "Semi Pro" is a song about the music business. In this case it's an intimately comfortable rocker about the life of a sound engineer. Paul's unique vocal delivery is a distinct plus here, as with a number of other songs, wrapping itself about his lyrics like a well-worn leather mitt surrounds a baseball. In vague ways, this particular number harkens back to his days with the Surf Cowboys.
The strange, childlike lullaby of "Paint the Sky" belies a cleverly constructed melody, the result of which could pass for the work of James Angell or perhaps Smile period Brian Wilson. "Don Julio" heads for the hills, a sweet love song worthy of Marty Robbins, reverently sung by Greg Paul, with Jim Walker (Jeroan Van Aichen) adding the de rigueur accordion in the back half of the song.
"Flowers In The Window" could easily pass for  latter-day Squeeze, Paul cast as Glenn Tilbrook, his cordial tenor sliding slickly upon the smooth contours of the lyrics; within the whipsmart tether of this catchy little rock gem, availed of a savvy chorus and a wildly eccentric slide guitar solo in the middle. Hot! A very Finn-y melody lends "Mary" a marked Crowded House feel, the chorus: a clever turn of phrase. " A Sonny Curtis melody/At twenty watts fidelity/The comfort of my TV tray/Beautiful cathode ray." A Beach Boys-like bridge ties it all together nicely, a true tour de force.
The instrumental "Bones Break" is a laidback number, with hand drums serving as the percussion, slide acoustic steel and electric guitars cause the melody to drip dreamily at the edges, which fit's the mood, somewhere between Joe Satriani and Ry Cooder. Speaking of Cooder, the other instrumental, Ry, is a fitting tribute to an obvious influence and stylistic guru- with warm acoustic guitars, accompanied by Williams' quiet hand drums and claves, and Walker's nostalgically mournful accordion strains.
A sort of Kinks-ish vignette, "Semi Pro" lyrically catalogs the life of the loser, "fearless leader" of a local cover band: "He led a quartet of complete buffoons/playing cover tunes/by the scariest bands/they were yes men, bucklin', meetin' all his demands." A kind of familiar, "Casey Jones," Garcia/Dead thing lurks in Paul's vocal style here and elsewhere, a certain jolly joviality in the delivery not heard much in the hardbitten 21st century. "Thunderbird" would have been a fine number for Roy Orbison or Johnny Cash to cover (though it's not too late yet for Delbert McClinton), driven by a highly recognizable loping country guitar technique.
"Your Shoes" is a beguilingly eccentric little number, Paul's 'Steve Forbert meets Paul Simon' vocal style melds with a sort of  oddball, Gin Blossoms chorus to form a tasty concoction. Another novel tune, "Brand New Wednesday" is a workaday fable about life on the go. Imaginative guitar settings and smart drum work help to flesh it out. "Strange Constellation" is a mandolin inflected opus with verses that suggest the breathy essence of Bruce Cockburn and overtones of Mike Scott of the Waterboys washing in a hush; while the chorus returns to a trusted latterday Petty motif. This allows Greg Paul to explore a more intimate variety of performance.
Greg Paul and Gregg Williams have teamed to fashion a very accessible collection filled with ineffable charm and warm affability. It's an album deserving of more than just a cursory audition. Repeated sessions bear great rewards. This talented duo isn't likely to set the world on fire with the release of their project, nor would that seem to have been its purpose in the first place. But as a source of solidly written songs, performed with expertise and heart, it is bound to satisfy.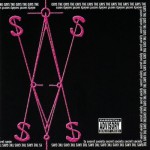 Secret Society
Flying Heart Records
Let's get one thing, ahem, straight, right off. The band's name, the Gays, is not ironic or sarcastic. Their subject matter is overtly homosexual and pornographically explicit. But as musicians, these guys seriously rock out, with vocalist Roy Tinsel providing Bowie/Iggy type vocals over a well-executed, double guitar and bass barrage. But be prepared to wade through songs such as "Appetite For Erection," "Dear Sir (Cumshot)," "The Love Canal" and "Cream Of The Vampire." And they mean just what they say.
While this band is somewhat beyond the crass ruminations of, say, the Mentors, they are no less puerile nor graphic, nor unequivocally overt, in their own right. So, if this sort of thing is your cup of meat, then have it. The Gays don't pull any punches. Their music is aimed at a specific audience and that audience is sure to appreciate the topics discussed. As for the public at large, beyond the status of taboo curiosity, I don't think the world (especially this post-election world) of Joe and Sue Everyday Downtown USA is anywhere near ready for this. Look out Middle America, here comes your worst nightmare! Caveat emptor.